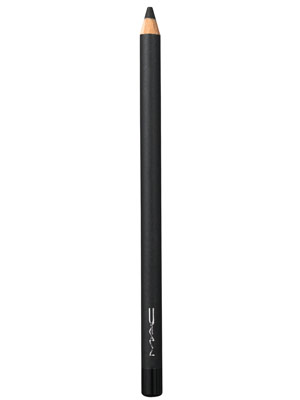 Smolder Eye Kohl, $15- Until about a week ago I had never used this pretty black liner from Mac. I have always heard about it but I was always more interested in Feline which has achieved cult status over the years. But this pencil is just as good in fact I like it better! I have always had transfer issues with Feline on my lids but I'm not experiencing that with Smolder. I love this pencil!
It doesn't tug on the eye either. I was loving my Smashbox Limitless Eye Liner in Onyx (reviewed here) and Nars Via Veneto (pictured here) but there is a new kid in town now. Long live Smolder!
Spiked Eyebrow, $15- Again I am not sure why I've never used this but I've been making up for lost time. I ran out of my Flori Roberts Eye Brow pencil (pictured here) and I was looking for a replacement. This mechanical brow definer really is great. I have been drawing in my brows with feather-like strokes for a week now and damn they look good!
There is a less expensive alternative to this pencil if you're looking for something at the drugstore. Maybelline's Define A Brow in the shade Dark Brown is under $10 and just as good. I went through two of those before I used the Flori Roberts product. I think these are so alike but the Maybelline Define A Brow is a much better deal money wise. And there are several different color choices to fit your brows-remember to go lighter than you think you'll need. You don't want to over do it.
Darker brows only worked for Joan Crawford….