I picked up two of the new limited edition Wet n Wild palettes from Walgreens and after playing with them for a few days I thought I'd put up some swatches and let you know my thoughts. There were four limited edition palettes in the display but after reviewing the original five shade palettes that came out earlier this year (review is here) I was a little wary.  I didn't like all of the palettes that I got but I guess I got lucky this time around. I liked both of the ones that I got!
The pigmentation is really good with these two palettes and the colors blend really well. I decided to go with Smoke and Melrose which is good for everyday eye looks and Angels in Aubergine which is good for going out at night! I wasn't that interested in the other two LE palettes and like someone said on Instagram when I posted the above picture I took at Walgreens some of these shadows look similar to three pan palettes that have been out for a while. I thought the very same thing when I saw this display at Walgreens but the thing is I don't have many three pan palettes from Wet n Wild.
A lot of times I get so excited about using palettes I forget to take a picture of them before I dig in. This time around I did my swatches first then took pics of the palettes and then used the shadows for a few days. Sorry! Lets talk about a really nice palette for daytime Smoke and Melrose first!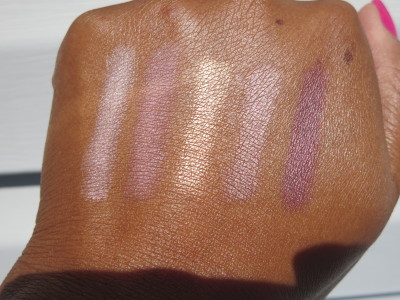 Nice huh? This palette is gorgeous for really nice soft eye looks. I ended up using 3 shadows at a time and using the deepest shade (far right of swatches) in my crease. This little palette reminds me of the Coastal Scents Revealed 2 palette in some ways. If you don't want to spend the $$ on that or the pretty pinky shades in the even more expensive Urban Decay Naked 3 check this much lower cost alternative palette for $3.99 out! I think its really wearable with a great line up of shades.
Lets talk about a grown and sexy palette called Angels in Aubergine next!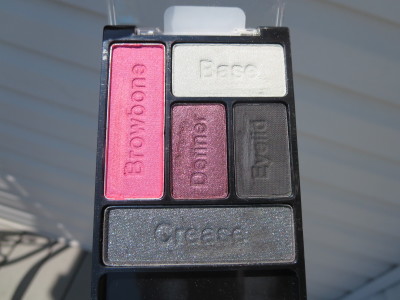 This was a really nice surprise! I couldn't believe how nicely pigmented the pink in this palette was. I needed to really pack it on to get it to really show up true to color but after that it really stayed nicely all day. The black and silvery gray are great also. The gray is a little glittery/powdery. But in general I do have a bit of fallout when working with Wet n Wild shadows so I always do my eyes first before the rest of my face. And the last shade is a gorgeous burgundy that is deeper and more intense that the Definer shade in Smoke and Melrose. It's fantastic!
Check these two palettes out. I really liked using them both! After spending $8 total I am very pleased with my purchase.