Barielle London High Tea/.45 fl oz., $8 at barielle.com
The new Fall collection from Barielle came out on September 1st and I'm going to show you a bunch of beautiful nail shades. I thought I'd start things off with a beautiful pink called London High Tea. I'm a sucker for a pretty pink and this one is right up my alley.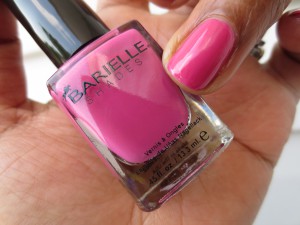 I used a base coat, two coats of London High Tea, and a top coat. I love the way it turned out. To some people every pink is the same but not the case here. This pink has a gold glitter that is a nice surprise and really makes this pink special.
Have you ever tried a Barielle polish? I suggest you do. I'll show you some other colors from the Fall collection. London High Tea is from the Sophisticated Lady Collection, it retails for $25. Wait till I show you the red and blue shades in the kit! All of the colors can be purchased individually for $8 also but the kit is fierce!