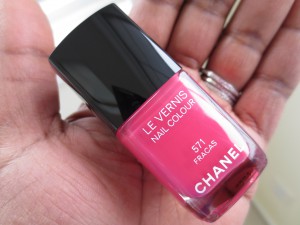 Chanel Fracas #571, $26 (Nordstrom or Neiman Marcus)
There was only one shade out of the three Le Vernis nail shades released for Spring 2013 from Chanel that caught my eye. I was all about Fracas from the moment I saw it. Fracas is a pretty pink that isn't quite a bright hot pink but a more wearable bright pink which I think makes it a perfect choice for Spring. I love colors like this because I think they work on any skin tone. I wish Chanel polishes were $5 each but hey I appreciate that I didn't want all three this time around. Last Spring I got all three colors.
There is a shimmer surprise in this one. Its subtle and only your going to know its there. I like that.
I love the way this shade looks! I must apologize I'm having some really serious technical difficulties with posting pictures on posts. It took ten tries to get these pictures up! I'll quit while I'm ahead and just tell you that this looks amazing:)
I used a base coat, two coats of color, and a top coat. This is Spring in a bottle guys! But remember it is an easily duped color minus that bit of shimmer so you can find something similar at a much better price point from OPI or China Glaze. Since this is from the Spring release I don't know how long it will be around so check online (Nordstrom or chanel.com) or in store for this. Sometimes these colors are around for a while and sometimes they are gone and Ebay is the only way to grab them at crazy prices. There is a good reason why people call it Evil-bay:)