I figured this week I'd use one of my favorite pinks! It's Chanel's May polish and to really amp things up I picked up a bottle of one of the new Sally Hansen Color Frenzy shades called Candy Drops.
Isn't it pretty? It's a nice textured polish with all kinds of different pink or white flecks and glitter.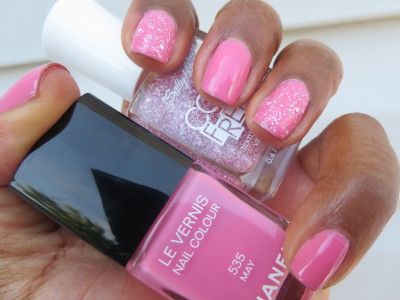 I used a base coat, two coats of Chanel May, and two coats of Candy Drops on a few fingers. I topped it all off with a shiny top coat. I love this look. I really had a hard time choosing a Color Frenzy polish. There are a bunch to choose from. I picked this one up because I don't have anything quite like it in my nail polish stash.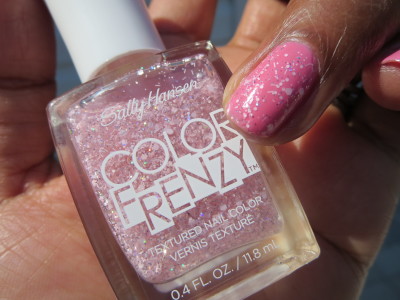 I picked Candy Drops up at CVS. It was almost $7 and I didn't have a coupon darn it. Oh well it's a pretty thang so I'm not mad! Have you seen the new products in the Sally Hansen display at your local drugstore yet? If you haven't you will!