I decided to go for Smoke and Ashes from the Hunger Games Collection today. It's a dark sparkly teal green. I love it. It's thick! So thick you can get away with one coat. I did a China Glaze base coat then two coats of color. Oh yeah and a top coat!
Anyway excuse my pictures because I got a little sloppy with my pinky finger. I was catching up on my backlog of Real Housewives of Atlanta episodes this morning. I got a little sloppy while watching one of the episodes because who brings 29 pairs of shoes to Africa? Or anywhere? A crazy diva thats who….so anyway my Smoke and Ashes polish brush got away from me.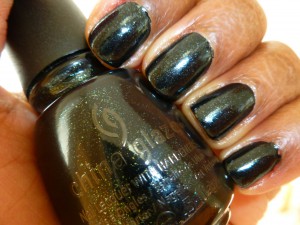 This is a great color, I'm so glad that I got it! Check this one out if you love dark colors but like some sparkle!