Besides loving the name of this one I love me some blue! You might already know this…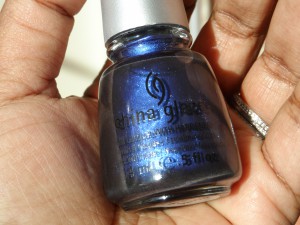 I love this blue (in low light it looks almost purple!) from China Glaze. I used a base coat, two coats of color, and a top coat. I think this is the perfect blue for a lot of people. It's just good stuff. I have had this color on for three days-looks great in the pics doesn't it? I love the wear of China Glaze polishes. Just a little wear on the tips (my pointer finger especially, i point a LOT…) but thats it. This stays gorgeous for days!
Check this color out at Sally's or Ulta for around $7. It's from the Bohemian collection.
*press sample