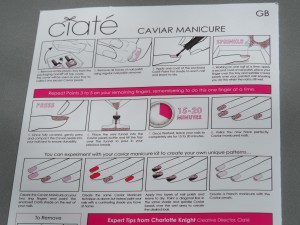 This was a really easy manicure to do. I got this set at Sephora ($25) last weekend and figured I'd try it. I was sad that the Rainbow Pearls set was out of stock but figured that I would get more use out of the Black Pearls set anyway. The directions are on the back of the box and on a sheet inside. They are simple and straight forward. When it's time for the beads/pearls that's when things get crazy! Ha!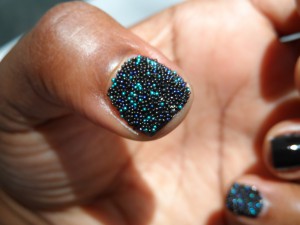 I think Sephora has the exclusive on this brand. It's available online. I heard from a girl on Instagram that there is a Martha Stewart set of beads/pearls for $17 at Michaels. You can achieve this look by pouring the beads over one of your own wet nail polish shades.
Things to be aware of. This lasts up to 48hrs per the box. Boo hiss. Another thing to know is that this takes 15-20 minutes to dry or set. It's not a quickie manicure thats for sure! Overall I like it and think it came out ok for my first attempt. I am not happy about the area around my nail beds. I think it makes sense to over polish a little and get the nail color closer to where my nails start. I'll try it again soon. Pick up a set at Sephora or stop by Michaels (or a craft store near you) if you are feeling artsy.