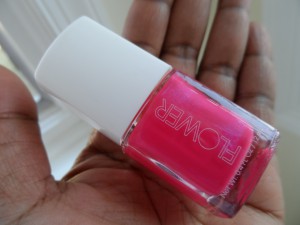 Cosmos-Politan $4.98 at Walmart
I couldn't wait to try out this new line of polishes at Walmart. I love that Flower products are made in the USA and they don't test on animals. Another great thing that is really nice is that these shades are 3-Free (free of DBP, toluene & camphor) as well. This color Cosmos-Politan was so bright and beautiful. I think this is perfect for your hands and toes in the Spring/Summer. Take a look!
It's just the first day but I'll let you know how it goes. Hopefully this lasts for a few days. I used a base coat, two coats of color, and a top coat. At this point I'd buy another color….for $5 sure!