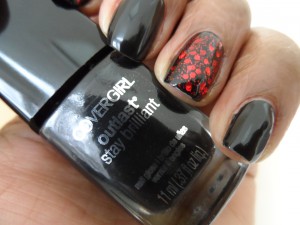 Covergirl Black Diamond & Wet n Wild (Fergie Collection) Make Them Boys Go Loco
I picked up Covergirl Black Diamond polish earlier this week. If you have a Rite Aid near you its worth checking out Covergirl this week. They are having a buy one, get one 50% off sale. There are a ton of great Covergirl nail colors but this is my first time using one. The polishes were $6 each at Rite Aid. Black Diamond shade is a perfect black cream polish. I did a base coat, two coats of Black Diamond, and a top coat.
Oh and lets not forget one coat of Wet n Wilds Make Them Boys Go Loco on a few fingers. Besides loving the name I loved the brush for this cute red glitter polish from Wet n Wild. I really like the Fergie polishes. They have some great colors and I love the price point. They are under $4!
It's a gloomy day but here are some pics. Sorry that the sun isn't out!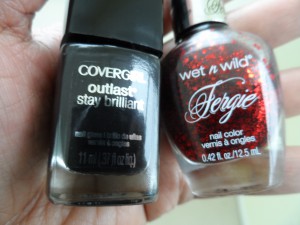 Check out the Covergirl polishes and Wet n Wild on your next drugstore visit. You might find something you like!