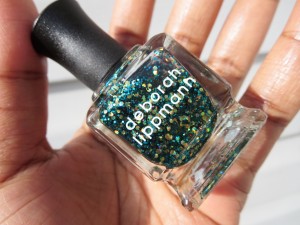 Deborah Lippmann Shake Your Money Maker, $19 at Blue Mercury
This is a real beauty but she's hard to work with. I picked this up on a visit to a Blue Mercury store a few weeks ago. I don't get to visit often (it's in Atlantic City) but the Deborah Lippmann section was far better than the one at my local Nordstrom. I picked up three colors and Shake Your Money Maker was the first one I grabbed to use this week. I was excited to get this pretty glitter on my paws.
But as you can see I had a bit of tip wear. I took these pictures on the second day of wearing the polish. My middle finger chipped a little.
I used a base coat (Deborah Lippmann Fast Girls), two coats of Shake Your Money Maker, and a top coat (Deborah Lippmann Addicted to Speed) for this manicure. I wasn't thrilled with the thickness of the glitter. It was super thick and a bit hard to work with. Many polish lovers are going to want to add a few drops of polish thinner before they even try working with this one. I was able to get my two coats on without many lumps. Whew….
I do love the final result. I've had so many people ask what the heck is on my nails in the last two days! Nothing is as much fun as a good glitter polish after all! For $19 I'm a bit disappointed with the texture but I love how this pretty glitter looks on my nails. Have you tried many Deborah Lippman glitters? I have tried a few and none were as thick as Shake Your Money Maker what gives?