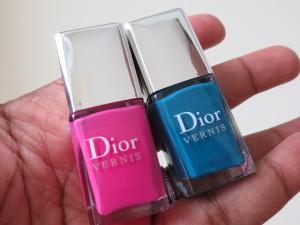 Dior Bahia #002 Nail Duo, $29 at Nordstrom
I will say it again…Dior is my favorite high end brand when it comes to nail polish. To me beautiful colors and lasting power are key. I show a lot of lower cost brands that I love on this blog but this is my weakness. I just love DIOR. It looks good, the brush wand is good, and darn it the polish lasts like few do on me. It doesn't chip, fade, and the only place it can't hold on is the tips of my nails. Even there I feel like it's fighting. It wears really slowly throughout the week…by about four days in I see the first signs of slight tip wear but for a bit (a week at least) its like I just had my nails done.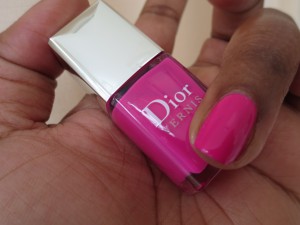 Check this out at your favorite place to get a little Dior. These two shades pictured are mini polishes by the way. They are .23 oz's each. A regular bottle of Dior polish is .33 oz's and $24 so if you've never tried the brand this might be the time if you really like the shades. The colors aren't unique but the quality is in my book. There are two duo's available in the Birds of Paradise Collection.
It's going to take me a while to show them all to you because I need to enjoy the individual colors on my nails. I'm selfish like that. Here's a look at the other duo in a promotional picture. The set (#001) is on the right side. It's beautiful. I have a weakness for blue usually but lately green/teal colors are coming in a close second.