I love a good mojito don't you? Well this pretty green shade from Essie is the kind of mojito that anyone can enjoy. You don't have to be of age!
I used a base coat, two coats of Mojito Madness, and a top coat. Love this. Oh and I threw on a coat of Sephora's Formula X shade Hubba Hubble. After one coat of Mojito Madness I was a little worried. The first coat didn't look so hot. But after the second coat is applied it all comes together.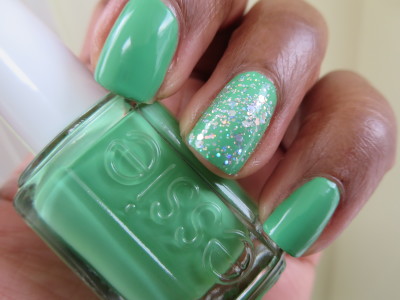 Darn that glitter ring finger looks nice! Check out this Essie shade I think it's a really nice Spring shade. One of my favorite places to get Essie nail polish is Transdesign. I love them because Essie polishes are $4.25! In my area Essie colors are always between $8-9. So if you want to order a few colors check them out. I ordered a ton of shades so you might be seeing a lot of Essie colors in the future. Oh and they have China Glaze nail polishes for $3.25. That's another brand I love that costs more than double when I buy it locally.