The Essie polishes I got recently are really nice. I showed you Mojito Madness the other day and the next shade that I had my eye on was Sittin' Pretty. I love purple and this is a really nice one. It def needs two coats though. I did a base coat, two coats of Sittin' Pretty, and a top coat for this manicure.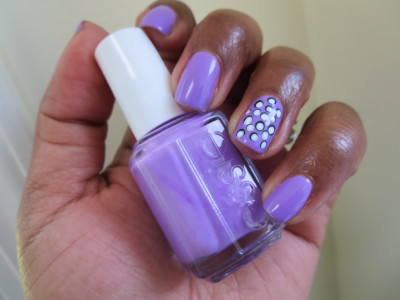 This pretty color is just about perfect. I dragged out my nail dotter and made some dots with Essie's Under the Twilight and Sally Hansen Xtreme Wear's White On. I decided to jazz up my ring finger a little.
One thing that I have noticed personally is that I used to have issues with Essie polishes so I didn't buy them. The shades would chip on me either the next day or within three days maximum. Now that I use a base coat and have for the last year or more I no longer have any issues with Essie shades. Before I never used a base coat but now I swear by it for making my manicures last. It also helps to prevent nail staining as well. I had the worst blue or green stained nails. Not anymore! So if you don't use a base coat I really recommend that you try it. It's an extra step but if you want your manicure to go the distance it might be worth it.