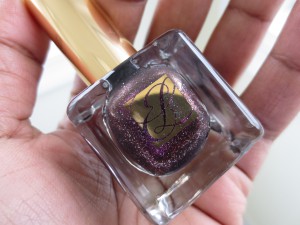 Estee Lauder Extravagant Night
I got this shade a while ago from the CCO (Cosmetic Company Store/Outlet) and I forget how much it was exactly. The discount there is usually 30% or better so I think I paid $16 and the usual price is $20 for EL polishes. I was really excited about this color. It's a sparkly one. I also have my eye on the bright orange polish Hot Spell that is coming out soon from their latest collection. I can't wait to get my hands on that! But lately I have been enjoying my deep Fall shades and this pretty purple almost burgundy shade fits right in.
I don't know how I feel about the bottle for these polishes yet. It looks pretty but its so heavy I'm always a little more worried I'll drop it. Today is a snowy overcast day so excuse my sucky pictures! I'll show you a few inside with flash first.
And in what natural light there is…
I think what I love about this is the little bits of silver glitter throughout Extravagant Night. It's kind of unexpected and makes this color unique. I have so many favorite shades but I love finding something a little different and special.