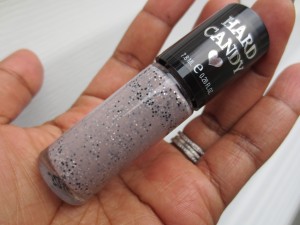 Hard Candy Cocoa Smore Nail Polish, $4 at Walmart
Who doesn't like a Smore? I picked this pretty polish up from Walmart months ago and just got around to using it. It's been rainy here on the East Coast so along with eating too much Halloween candy I figured I'd pull out some fun food themed polish. I love this murky but glittery shade. I love these inexpensive polishes from Hard Candy. They are hard to remove but I have so much fun putting them on my fingers so I try not to think about removal.
I showed you guys Sugar Rush and Pink Taffy a while ago. I still love those two. This is a fun one as well I think its a good fit for Fall.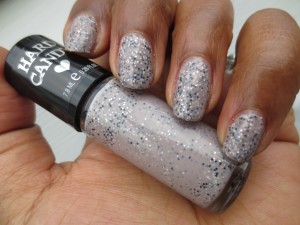 I used a base coat, two coats of Cocoa Smore and a top coat. The only thing I have to watch out for when using these Hard Candy polishes is the tips of my nails. Getting some of the glittery flecks on the edge of your nail is annoying. It makes your manicure look a little lumpy. Eeek! These polishes last rather well. I only notice tip wear after a few days. I can't go a full week though so thats something to consider if you are looking for a long wearing nail polish.
Check these pretty polishes out at Walmart. At $4 they are so much fun and a great way to dress up nails of any length and your toes will look so darn cute with this polish. I won't show you my toes…I'll spare you that.