Illamasqua Speckle Nail Varnish, $16
I was in love the first time I saw this shade. I love purple and throw some "speckles" in it and I'm there! This new line of colors from Illamasqua has a lot of people interested. I'm no different I guess. At $16 I thought I'd wait for a Sephora sale but I caved!
Pretty huh? Well after using this color I am vowing not to get anymore. It looks amazing I must say. I used a base coat, two coats of color, and a top coat. Ready to see it? Perfection….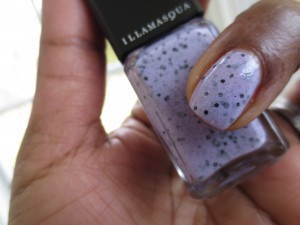 Love this! We'll see how well this works in the days ahead. I usually have good luck with Illamasqua shades. They last a good five days on me without chipping and I notice very little tip wear. I picked this up at Sephora so check this line out on your next visit. There are some pretty colors just waiting for you….