Marc Jacobs Sally #130, $18 at Sephora
For $18 I wanted to pick a stunning color that I'll love for a long time. I've done it, Sally is a beast! I love almost black shades with shimmer and this is so great that I've worn it all week and redid the whole manicure process just because I wanted to. I didn't have to because after four days it still looked fantastic (there was minimal tip wear) but I just wanted to stretch it into a whole different week.
I used a base coat, two coats of Sally, and a top coat. I must say I am in love with this. Maybe you can tell….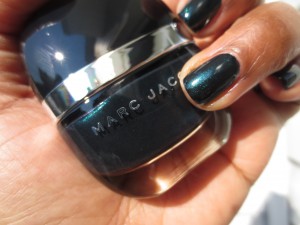 With a new polish brand I'm always worried about the brush wand and the formula. Both are excellent. I'd say the formula is not too thick or too thin-it's just right. It's not a one coat of color polish in my opinion. To get the depth you want two coats is necessary. At $18 I'd say this won't be a habit but I'll feel good cherry picking shades I love from Marc Jacobs because I'm very happy with the quality overall. I went to my local Sephora to pick this baby up and there are 24 shades on the Sephora website to choose from if you don't have a store near you. If your feeling dangerous get one!
And I gotta give you one more big arse bottle shot…
AMAZEBALLS!!