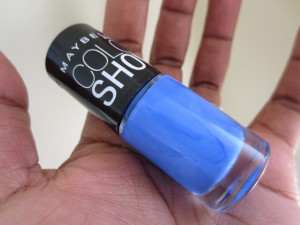 Maybelline Color Show Pacific Blues, $2.99 at Bed, Bath & Beyond
I freakin love blue nail polish. It's a sickness. I saw this shade in the limited edition Summer 2013 Maybelline display and I had to have it! I did a base coat, two coats of color, and a top coat. It's amazing. I will say that before the top coat it didn't have a super shiny finish. That's fine. After the top coat it does!
Nail polish lovers like me may be struck by the similarity to Sally Hansens Pacific Blue….I was. Check out the bottle comparison.
Interesting huh? If you'd like to see the display check out my vlog video below to see the other shades and other Maybelline Summer 2013 goodies!