Physicians Formula Three Shades of Grey Endless Color Custom Nail Trio, $10 at Walmart
I picked this up a while ago and got a good laugh out of the name. I don't know if you read the books (I have…shocking!) but this is a fun name for a cute set of nail shades. I love that these are stackable and the color variation is nice. I'm not a big nail art person so if you are like me this is a fun and easy way to have a good time with your nails and you don't have to be particularly talented. I can't draw a straight line so this is right up my alley!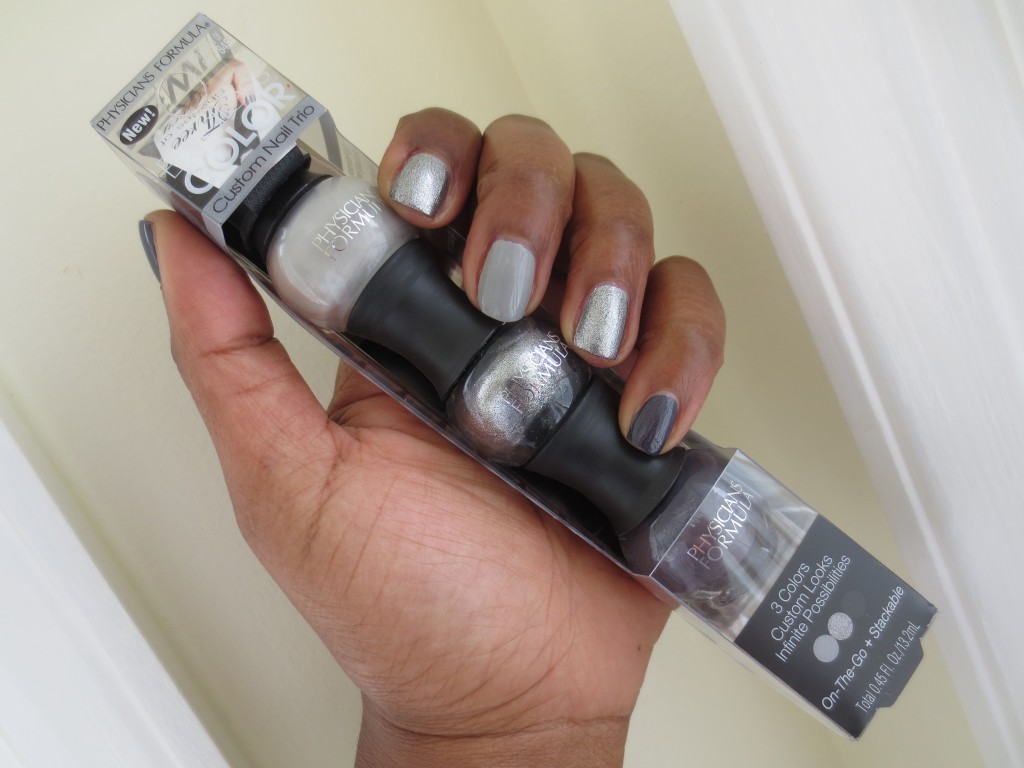 I used a base coat, two coats of color, and a top coat. So here's my take on this. I love the cute little bottles and the brush wand is nice. It might be hard for some to get used to how short the wand is. The polish itself was opaque after one coat even the silvery glitter shade. I just went for two coats of color cause I want this manicure to last. This polish takes a bit longer to dry than most brands. Even after the Seche Vite top coat I had to wait a while because after touching my fingers I could tell the polish wasn't dry.
I love that you can get three shades for $10. This had a coupon on it also-watch out you may be able to get it on the cheap! I was just talking with my friend the other day about how Physicians Formula tends to stretch the limits when it comes to pricing at the drugstore. They are always so freakin high. Bronzers for $15….at the drugstore….WTH? Anyway I do get excited when their stuff is on sale at CVS. It's usually 40% off so thats the time I stock up on anything I am interested in.
Check the trio's out if you'd like to try some Physicians Formula polish. There are a lot of pretty ones!
And if you are talented or creative check out All Laquered Up's amazing manicure with the Three Shades of Grey set here. One day I gotta try this! It looks amazing:)