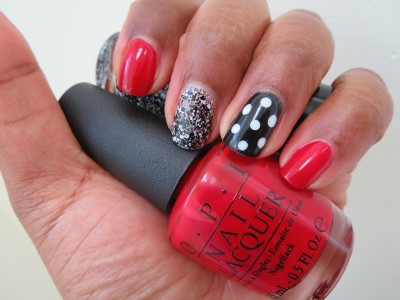 I got lucky last week and picked up a few shades from OPI's Brazil collection half price at Sally's. I don't have many OPI polishes as a whole but now I do. I got a bunch from the Brazil Collection and three from the Gwen Stephani collection so you might be seeing more OPI soon. I used two coats of Red Hot Rio on three of my nails. I used two coats of Maybelline's Clearly Spotted on my middle finger. And on my ring finger I had some fun. I used one of my favorite black cream polishes Covergirl Outlast Black Diamond (two coats) and used Sally Hansen's Xtreme Wear in White On for the dots! More details on the dots later.
Lately I have been watching so many nail art videos. I'm obsessed. I can't draw worth a damn so the ones I'm watching don't require actual drawing skills. I've learned so many techniques over the last few weeks and now I'm ready to start trying some thangs…I put a picture up on Instagram last night of my first dotted (correctly) nail and I was so happy many people enjoyed seeing it. I thought I'd talk about it more here. A few people said that the manicure reminded them of Mickey Mouse!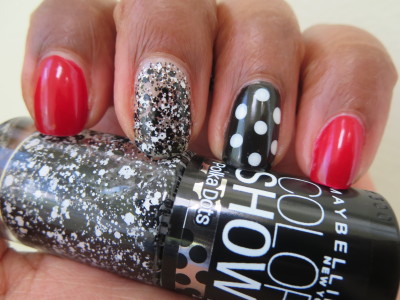 I found a lot of great nail art channels on YouTube. I've already got some favorites already. Just like with makeup tutorial videos I like easy to follow people. And it also helps if they have a sense of humor! One of my favorites that my buddy Ms. J turned me onto is Young Wild and Polished. She has the most amazing dotted manicure tutorial. She does makeup videos as well and they are fun to watch also! I subscribed to her and love seeing new videos.
Here is the video that started it all. Because next thing I know after watching this masterpiece I'm ordering a nail dotting tool set off eBay for $3 (including shipping) and dreaming of dots all over my fingers!
Now remember I can't draw…but I can make dots! I love the dotting set I picked up. It's cute and I've noticed that a lot of the people doing tutorials on YouTube use this set. The name of the eBayer seller is in the picture below in case you want to look at the set.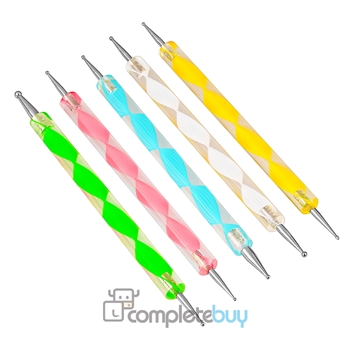 This is only the beginning. I will post most of my stuff on Instagram so join me there as well if you haven't already!