Revlon Brilliant Strength Mesmerize, $8 at CVS
This is my first shade from the Revlon Brilliant Strength line. It seems right that I start off with a blue shade right? I'm the crazy blue nail lady anyway hello! It's really a pretty bright blue and I'm just crazy about those. I have a blue fetish and I refuse to get help. Oh well look at my new favorite blue just one more time!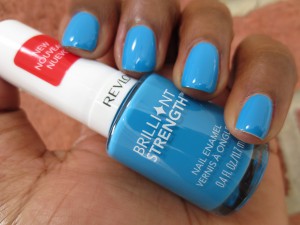 I really like the Brilliant Strength formula and this is in practically the same bottle as the Colorstay polishes that I love for Revlon. I used a base coat, two coats of Mesmerize, and a top coat. The end result is fantastic! I took a look at the Revlon website and this formula is supposed to help strengthen your nails as well as help with brittleness and breaking. Nice. I can use all the help I can get.
Check this line of shades out at all your favorite places to buy Revlon products. I've seen these shades all over the place which is nice! I have a few more that I'll show you before long.