Sally Hansen Xtreme Wear Sun Kissed #150, $3.49 at CVS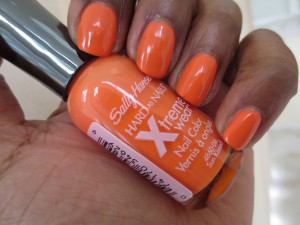 I love the bright and beautiful shades in the Sally Hansen Xtreme Wear line. This was highly recommended  by a few people and I gotta say its a very pretty color. It reminds me of sherbet! I can relate just about anything to food. It's a gift.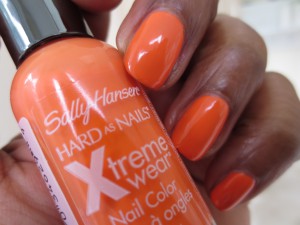 Check out this pretty color at CVS, Target, or Walmart. As usual the best pricing is going to be at Walmart. I can find the Xtreme Wear shades for under $3 there. I used a base coat, two coats of Sun Kissed, and a top coat. This formula wears really well so I should be good till early next week. Check Sun Kissed out soon it's the perfect shade for this time of year!
I've done a few NOTD posts on the Xtreme Wear shades that I've tried so far. Here are a few just in case you'd like to take a look:
White On (I used White On for a DIY French Manicure)