Another pretty color for the Summer!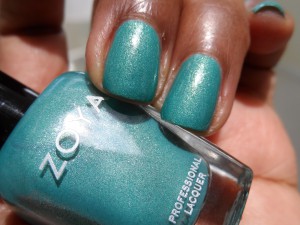 I got Zuza from my May GLOSSYBOX. It's such a pretty shimmery teal. I love it. I used a base coat, two coats of color, and a top coat. Honestly this shade looked great after one coat so if you are in a rush that will work!
I love Zoya polishes and this is one of the best shades that I've got. If your looking for Zoya shades locally I always see them at Ulta. But the best place to take a look at all of their pretty colors is on Zoya's website. They are $8 each.