NYX Butter Gloss Cherry Pie, $4.99 at Ulta
I was very late to the NYX Butter Gloss love game! I heard so much about these on other blogs and on YouTube. I picked a couple up on sale at Ulta and I've been wearing Cherry Pie here and there for a few months. I heard from long time reader Keisha and she asked why I haven't posted about any of the Butter Glosses yet so here ya go-this one is my favorite!
These feel super moisturizing and after using the doe foot applicator to get the color even on my lips I am ready to go! I do use a mirror with this and I'd love it if they had some deeper colors to choose from for Fall. There are some beautiful lighter shades available now so its worth checking for these at Ulta (online also!) now just to see if there is anything you'd like to try. I haven't tried many lighter shades but I have two more that I enjoy using with my Mac and Maybelline lipstick shades. I love using these glosses as a super-moisturizing topper for my lipsticks.
The shine packed into these is amazing. It's a mirror gloss finish.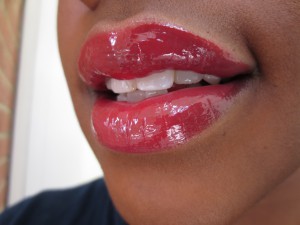 Check these out if you haven't already. And if you have tried them please let us all know your favorite shade!