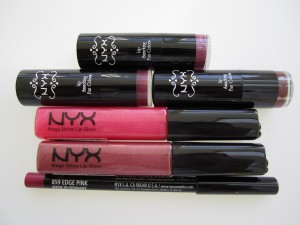 I love giveaways! If you do too, you are going to be very happy here. I put together a great Spring lip set with some NYX goodies. Nothing says Spring like beautiful purples and pinks!
Included in the giveaway:
NYX Lipstick #503 Medusa, #520 Pandora, and #586 Eggplant
NYX Mega Shine Lip Gloss #154, Ice Princess, and #143 Plum
NYX Lip Liner Pencil #859 Edge Pink
Good luck guys-Contest ends April 15, 2011
Rules:
1-You must be signed up for one of the feeds either RSS or Email (Use the Subscribe to our RSS Feed or Subscribe to Email Here buttons) on this site!
2-Comment/Leave a Reply on this post using the same email address that you used for the RSS or Email Subscription feed you signed up for in step 1. Let me know which product you will use first if you win!
3-One entry per person, international readers welcome. I have to mail this to you, only enter if that's ok!
I'll contact the winner on April 16th by email, so make sure you use the same email address for your RSS or Email feed that you do for your comment/reply on this post!