Belladonna, NSFW, Beta, and Pennyroyal (.33 fl oz.'s each/$14.50)
I really like OCC Lip Tars. I did a video on them a while ago and I picked up some new colors a few months ago at IMATS in NYC. If you haven't ever seen a Lip Tar here's a great description from the OCC (Obsessive Compulsive Cosmetics) website:
A stunning new innovation in lip color, OCC Lip Tar combines the longevity of a lipstick, with the ease of application of a gloss. Goes on slick and moist, and dries down to a satin finish. Ultra-saturated in color, Lip Tar contains an unprecedented amount of pigment – a little goes a very, very long way! An intense yet featherweight layer of color that never looks or feels heavy. Meant to be mixed, Lip Tar comes in concise array of colors for a limitless selection of shades made by you! A simple, elegant formula that contains Hemp Oil, Peppermint Oil and Vitamin E, OCC Lip Tar feels as good on the lips as it looks!
I like pigmented products and these are as pigmented as lip products get. Some of the Lip Tar shades are great traditional lipstick/gloss colors. They are perfect to wear alone. I know some of you are thinking that the colors above are out there! But I got fancy after working with these in the last year and now I am into mixing the shades. It's so much fun to play around with the colors. Mixing colors brings out the crazy makeup magician in me. I'll show you how these four look alone first.
I apply my Lip Tars with a lip brush. All you need is a tiny amount of product to do your lips up properly.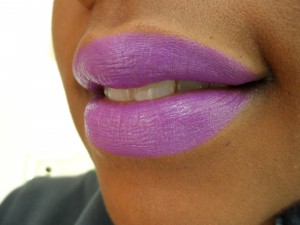 Beta and Belladonna
Pennyroyal and NSFW (Not Safe for Work)
One of my favorite combo's is Beta and Pennyroyal.
I also have paired up NSFW and Beta quite a bit. These are a lot of fun to play with and there are so many beautiful Lip Tar shades available. Remember many of them are straight out of the tube colors meaning you don't have to mix them to come up with a color that works.
My favorite of all time is Hoochie! It's here with the other shades I have.
Hoochie, Pagent*, Plum*, Trollop*, and Strumpet*
Make sure you check out OCC's website for Lip Tar colors and other products. They have a new concealer so I'm sure I'll be checking that out soon. I haven't met a concealer yet that I didn't want to change my life!
* press sample