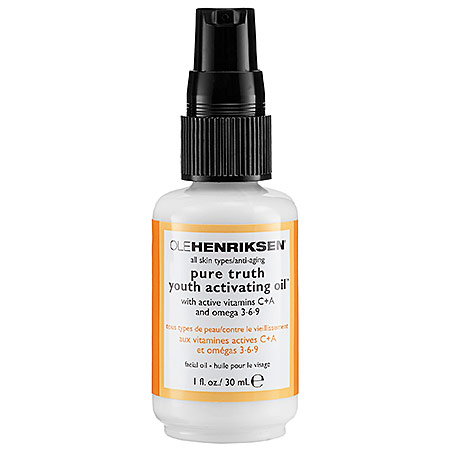 Ole Henriksen Pure Truth Vitamin C Youth Activating Oil, 1 oz./$45
I have to tell you about something that has changed my skin and that I won't be without…ever! It's something I picked up from Sephora during the last 15% off sale. Frankly I wanted to get the discount hello this stuff is great but it's $45!
I have been hearing about the benefits of using vitamin c for a while now. I wasn't really into trying it until my first brush w/vitamin c when I tried out Tarte Maracuja C-Brighter Anti-Aging Eye Treatment . Well that eye cream led my dark bags to the promise land after a few short weeks and now I have to say Ole has taken the rest of my face and neck there!
From Sephora.com:
What it is:
A powerful 100 percent concentrated facial oil to activates skin's natural reparative ability and produce bright, resilient, and radiant skin.
What it is formulated to do:
Luxurious and lightweight, this citrus scented and potent antiaging treatment quickly absorbs and deeply penetrates to heal, nourish, and hydrate. Fine lines are visibly reduced and skin is immediately brighter and more radiant. Abundant with antioxidants and anti-inflammatory properties, skin is defended from future damage and balanced, leaving it luminous and youthful-looking.
What it is formulated WITHOUT:
- Parabens
- Sulfates
- Phthalates
What else you need to know:
Unfiltered, unprocessed, and cold pressed to maintain the highest potency, rose hips oil is a single source of active vitamin A, vitamin C, and high levels of essential fatty acids.
The transformation using one pump each evening for a little over a month now has been amazing. All the darker spots on my chin and the sides of my face aren't nearly as visible. I used to look like I was always wearing contour powder due to the darker skin on my lower cheeks…now there is hardly any darkness there. My whole face is slowly becoming the same smooth (it helps with texture also!) brown color throughout. Using this combo has given me more confidence with my bare face than ever before. I started noticing a change after one week. After two weeks I was all up in the mirror checking things out and using much less foundation cause my skin was lookin GOOD.
There are just a few things to be aware of. The smell….it's like you got hit with two bags of Sunkist oranges. The first few nights using this I couldn't believe how strong it was. I like the smell so I got used to it quick. The other thing is that as a combo/oily skin girl I was worried about putting an oil on my face and leaving it there. It was fine though. This stuff sinks into your skin quickly and it looks like you just put moisturizer on your face after a few minutes-it's not greasy looking thank goodness! I also think that it's important to note that this doesn't change the color of your skin (it brightens your natural color, it doesn't lighten your skin) it just has made my skin even color-wise throughout.
I use one pump of this oil each evening and spread it on my face and neck. I checked my bottle and I've used about a quarter of it after using it every night for about five weeks. I'm thinking I can get 3 months out of each 1 oz. bottle. That's good cause it's $45-let me remind you. There was an even better combo at Sephora (ITEM # 1530013) from Ole that was sold out during the sale but I will get very soon. It's the same size (1 oz.) Vitamin C Oil along with a .5 oz. Truth Serum Collagen Booster for $45. I may as well get something else along with something I know I love right?
Let me know if there are any Vitamin C products that you've tried. I'm curious. I am such a fan now!