A bunch of people have asked me to do an updated makeup collection/storage video. I am working on cleaning up my stash so I can film one soon. My biggest problem is keeping samples and new stuff separated from stuff I use and have already reviewed. Here is a look at my counter before and after. What an improvement right?
Thanks to you all participating in my blog sale my palettes are easy to organize now.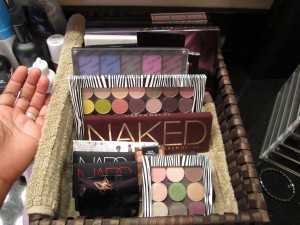 Here is a quick video on the most helpful yet inexpensive storage system I use, Muji Drawers.