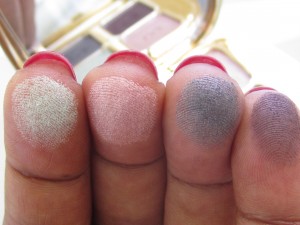 I thought I'd start showing you the eyeshadow palettes I'm using once in a while. This is one of my favorite eyeshadow quads that I got about six months ago. It's my only Dolce & Gabbana quad ($59 at Saks) and I loved all of the colors and the name, Fabulous. I really love the texture of the shadows. They are butter soft but very pigmented. I am all about how versatile a high-end product is and this quad really impressed me.
I love the color combinations that I can work with using this quad. I do the two purple shades (light and dark) most often but my next favorite look is using all 4 colors! Yes I said it. I actually use all four shades which is practically unheard of for me! They are beautiful together. The purple and blue shades are shimmery looking at first but on the eye appear very pigmented and matte with a very slight shimmer. I can't tell you how great they look. I usually work with two shades but as I said before I do love using all four. Using the pink shade in the inner corner of my eye or very sparingly on my brow bone as a highlight ahhh love it!
I'd say this palette was really worth the money. I don't really think any of the other Dolce & Gabbana palettes appeal to me but if they come out with one that has four shades that I think would work I'd definitely get it.
Rated A
Disclosure: I purchased this item myself!