Perricone MD Cold Plasma
I've been using Perricone MD's Cold Plasma for a few months now. It all started out for me with a really nice set from Sephora that was gifted to me from a friend. It's still available on the Sephora website in case you are interested. It's called Perricone MD The Power Treatments Set (item: 1521350/$98) and there is a .5 oz jar of Cold Plasma in there. This set is a great way to test out a few smaller sample sizes of Perricone products without spending the full size product prices because news flash Perricone isn't cheap! But let me tell you the changes I saw made me sit up and take notice. My skin is getting all badass/clear/glowy on me and I'm thrilled.
Cold Plasma has helped bring back the brightness that I've been missing. My skin tends to be dull and I want to look glowy without makeup and thats what this is giving me. I think its helped with my skin texture and it's gentle. There is a slight smell to the product that goes away quickly but its nothing to even worry about. My skin drinks up Cold Plasma each night when I put it on. The recommended use is twice a day after cleansing but I prefer to just put it on at night. I do all my serious skin care then. I like to bake overnight in my creams and serums. I wake up looking like a new woman!
One thing I've come to realize and appreciate about Perricone stuff is that you need very little product to get the job done. The .5 oz jar lasted for over three months. I did only use it once a day (at night) instead of the included instruction recommendation to use it morning and evening.
I just want to note that I introduced Cold Plasma into my routine by itself at first to access any changes. I try one new thing at a time when it comes to my skin care routine. That's the only way I can tell if I am having a reaction. I finished my small jar and liked the product so much that I recently ordered a QVC Today's Special Value duo that included a large Cold Plasma in it. I got a 2 oz. jar of Cold Plasma and a 4 oz. jar of Sub-D. It's still on the QVC website (Item A252503) and it's on easy pay also thank goodness. It's expensive but I'll never be without it now, I have it on auto-delivery woo hoo!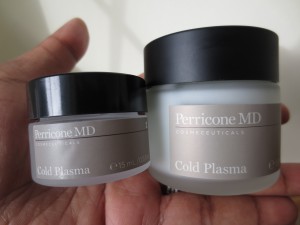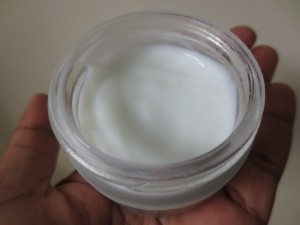 From qvc.com:
What is it: A custom blend of advanced technologies in a unique, whipped, lightweight, serum-creme formula that addresses visible signs of aging, such as firmness; elasticity; clarity; radiance; smoothness; texture; redness; blotchiness; fine lines and wrinkles; and expression lines around the eyes, forehead, and mouth.
Who is it for: Everyone who is serious about addressing the visible signs of aging.
Why is it different: This formula represents years of research to create a comprehensive solution to produce maximum results in preventing signs of aging.
How do I use it: Apply morning and evening on cleansed skin. Follow with any Perricone MD treatment and or moisturizer.
Application tip: You may find that this product has a strong scent. It will dissipate within 30 seconds of application.
I've been taking my skin care really serious lately. I've been seeing some great results with the products I'm testing out and I'll be sharing a lot of my findings with you. I'm committed to finding the right cocktail for my skin and I'll take you with me for the whole process. I have another Perricone MD review that I put up recently for Blue Plasma, check that out if you'd like!