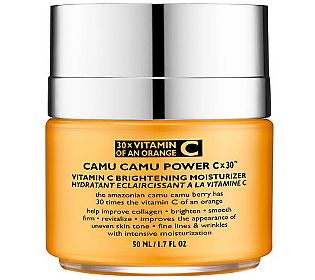 I can't believe the things this moisturizer did for my face! Get ready for a straight up rave review!
Okay so lets get the elephant in the room out of the way. This moisturizer is $72. You get 1.7 oz of product. BUT…it works! If you are looking for something to help brighten your uneven skin tone look no further. This is the moisturizer that can do it.
From the QVC website:
What is it: This Vitamin C Brightening Moisturizer is made with Camu Camu–a potent super fruit from the Amazon that's formulated to help brighten, smooth, and firm your skin, as well as even skin tone and help reduce the look of fine lines and wrinkles.
Who is it for: Anyone looking for a moisturizer that brightens and firms skin while evening out their skin tone and visibly improving the appearance of fine lines and wrinkles.
Why is it different: The Camu Camu berry provides a superior source of vitamin C. In fact, it has as much as 30 times more vitamin C than the average orange, and is considered one of the richest sources of vitamin C in Brazil.
How do I use it: Shake well. For best results, apply twice daily to face and neck after Camu Camu Vitamin C Brightening Serum (sold separately).
I have (or had hee hee!) some seriously hard to get rid of discoloration on my chin. We are talking old zits basically. After a few short weeks they were gone. Just GONE. This moisturizer whipped my face into such great shape it was unbelievable. The spots were gone and my skin (my chin being the trouble zone) was all one shade. So I absolutely love this stuff. I would say that if you are a combo skin person like me the warmer it gets you might want to just use this at night. I found that in the coolness of March I could use this cream day and night but as the heat of April set in using this at night became more preferable. Even so the results that you should get are going to be worth it.
The texture of the moisturizer is nice overall and the light scent of oranges is refreshing. All I can say is that this is an investment in great skin so its something to consider very carefully.  I mentioned how much I love this product in a recent YouTube video and I'm glad to say many people commented that they picked up a nice sized sample at their local Sephora to try it out. Consider doing that or just go for it!
I think this is going to work really well for a lot of people that want even toned skin. I can't speak to it helping with fine lines and wrinkles but it does a heck of a job on discolored skin and helped the texture of my skin improve as well. Vitamin C is something that can help with so many skin issues. I for one will never be without a product that contains Vitamin C. Check this stuff out!