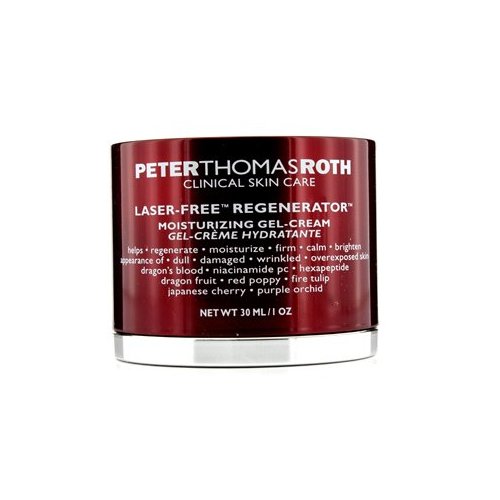 Peter Thomas Roth Laser-Free Regenerator Moisturizing Gel-Cream, $68/1 oz. at Sephora
This moisturizer is truly unique stuff. It almost goes on…dry. I'll explain that in a sec. I've tried quite a few moisturizers as you may have imagined. I'm usually in love right away or I just hate it. With this one it was instant love. I can't imagine ever being without it. It goes on and almost seems like it mattifies as I spread it around. I've put it on my skin and all of the sudden my skin looks better. My shiny forehead is gone. It doesn't really make my skin matte but it improves the look of my skin thats for sure. Almost like placing a filter over it so it just looks perfected.
Here's a picture of my smaller size jar below. It's red from the dragons blood I guess lol. That's one of the ingredients! On the PTR website they say it's a red resin drawn from the Amazon's Croton Lechleri tree, a centuries old native secret. Wowza!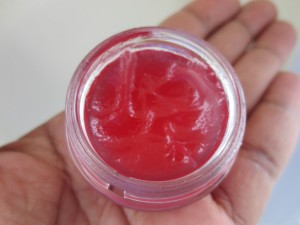 From Sephora's website:
What it is:
A gel-cream treatment that helps regenerate, moisturize, firm, calm, and brighten the appearance of dull, damaged, wrinkled, overexposed skin.
What it is formulated to do:
Skip the laser, get the results. This powerful, deeply nourishing, high-tech, pink gel-cream dramatically helps improve the appearance of skin texture, tone, and clarity. It helps diminish the appearance of fine lines and wrinkles, leaving skin radiant and younger looking.
What it is formulated WITHOUT:
- Sulfates
- Phthalates
What else you need to know:
This advanced formula is infused with Dragon's Blood, a red resin drawn from the Amazon's croton lechleri tree, a centuries old native secret. Niacinamide PC, a multifunctional antiaging powerhouse, joins hexapeptide to help support natural collagen and elastin. This perfectly balanced cocktail of intense skin protectors and moisturizers includes exotic extracts of dragon fruit, red poppy, fire tulip, Japanese cherry, and purple orchid, all to help achieve a more even skintone, a smoother looking texture, and an increase in overall radiance.
Research results:
In a clinical study immediately following application:
- 95% increased moisture levels in skin
In a consumer efficacy study immediately following application on 31 women:
- 97% agreed their skin texture felt smoother
- 97% agreed their skin felt more moisturized
- 97% agreed their skin felt softer
- 97% agreed their skin felt immediately moisturized
I've noticed in the past that gel products work really well on my skin. Especially moisturizers. It's all about the way that they lay on my skin. They are absorbed but in a really good way, it's almost like they don't over stimulate my oilier areas the way some creams and serums do. I don't get the greasy t-zone that I fear more than anything.
This moisturizer is available in the QVC Peter Thomas Roth Customer Choice 6 Piece Anti-Aging Kit for $40. That's how I discovered it. After using the .50 oz sample size I was sold! This is a great kit and worth a try to test out a bunch of products and see what is worth the price tag to you. I also tried out and fell in love with the Anti-Aging Cleansing Gel after purchasing this kit. I'll tell you about more of the products in the kit soon.
Have you tried this moisturizer? I have a feeling this might be a good fit for quite a few skin types.