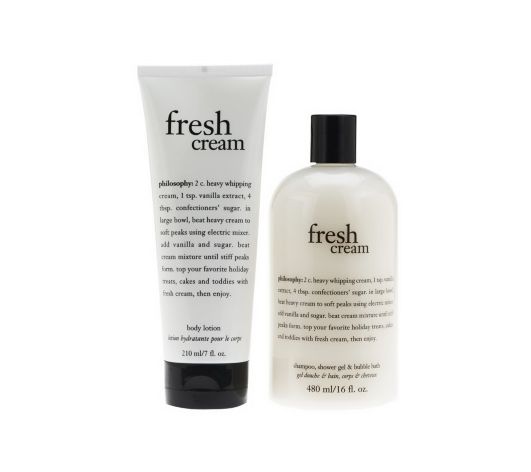 Philosophy Fresh Cream Shower Gel and Lotion Duo, $26 at qvc.com
I picked up one thing from last weekends QVC 25 hr beauty marathon. The Fresh Cream shower gel & lotion set from Philosophy. It was on easy pay and I was excited about that of course but I wanted to smell this. I don't know what cream smells like but its food so it has to be good right? It was ok. I never usually say that about Philosophy. I like a stronger scent and this is kind of a fresh sweet smell. But it's very light. A little too light a scent for me. I guess I like louder things! I'm not the type of girl that wears a fragrance that will knock you out in the elevator but I like my scent to be stronger and say HELLO THERE a little more.
I love Amazing Grace. I can't get enough of the stuff. But if you have Pure Grace and thats your favorite then Fresh Cream is going to be a decent fit. Pure Grace is the ultimate in fresh scents. It smells soap and water clean and its a fit for women and men. It isn't going to over power anyone near you. That's exactly what Fresh Cream is like.
The body lotion is really nice. It's really very moisturizing but doesn't leave your skin greasy at all. It's a nice size so I think I'm going to really enjoy it! I love a good lotion.

Who is it for: Anyone who loves the smell of fresh cream. It's also for anyone who loves a layering set and sweet scents.
Why is it different: The 3-in-1 shower gel formula wraps you in moisturizing bubbles while cleansing and conditioning skin and hair. After your shower or bath, soothe and moisturize skin with the body lotion.
How do I use it: Apply shampoo, shower gel, and bubble bath to wet body or scalp. Lather, rinse, repeat. If using as a bubble bath, drizzle a generous amount under running water and enjoy.
Apply a generous amount of body lotion to skin with fingertips. Massage in gently with a soothing, circular motion.
From philosophy.
Includes:
16-fl oz shampoo, bath, and shower gel

7-fl oz body lotion

Made in USA
I had to choose between Fresh Cream and Almonds & Cream when I was ordering. Now I kind of wonder what Almonds & Cream smells like. I have issues….