Le Metier De Beaute Noir Liquid Eyeliner, $42- I'm having a lot of fun with this. I am usually a disaster with this type of liquid liner. None of the ones I've tried have worked for me. This one did though because I can do a thin line with this tip and a thick line. It's easy to use. I've tried Mac's Penultimate, YSL's Easy Liner, and the Lorac version of this and they are all sitting in my drawer. This is the first one that I could deal with. They have another shade I'd love to get some day. It's blue and fabulous. Check these out at the counter.
Rated A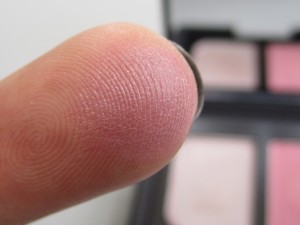 Nars Grand Palais Eyeshadow Duo, $33- This is a duo I got from Nars recent Fall release. I was going to skip this but decided not to because when you put this silver taupe and dusty rose together you get MAGIC. I love the color that is the end result and its hard to describe but I tried to get a bit of it in a swatch. The last picture in the center above…thats it. Not my best work but let me tell you on the eye it's great. It's not too red or anything correct blending gets this look where you want it. I don't have a color like this so I had to get it.
Rated A
Chanel Amethyst #41 Soft Touch Eyeshadow, $28.50- This is a beautiful purple shadow. I really feel like it looks bright and kind of scary in the pan but it's not that shocking on my deep skin tone and lids. It's a beautiful shade but I found that it needs to be blended with the right color or colors to really look good. In the future I'm going to stick to shades that I can use alone on my lids and that are more versatile at this price point. This isn't as special to me and useful as Fauve. Fauve is a much better pick if you want to get a Chanel shadow.
Rated B