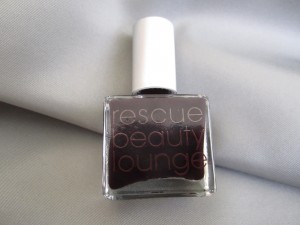 I love black nail polish. I have shades with sparkle, without, and now this deep cherry black shade from Rescue Beauty Lounge. It's a blackish burgundy color that looks fantastic. It's even got a good name, it's called Film Noir. The polish formula is just the right consistency. Two coats and you are all set with this one. I love the glossy finish and I will be showing you the other color I got soon. They retail for $18 each at www.rescuebeauty.com.
Have you tried any Rescue Beauty Lounge shades? There are so many delish colors to choose from!
Rated B ($18 a bottle wow!)
Disclosure: I purchased this item myself!