I resisted trying Revlon's Colorburst Lipstick and Lipgloss for as long as I could. I heard about them from numerous places but figured how good could they be? Well after trying them I know now that I should have snapped these up a while ago! Above is Colorburst Lipstick #30 Fuchsia. It is a beautiful color and quite moisturizing.
Revlon also has Colorburst Lipgloss. The beautiful shade above is #10 Hot Pink. I love this gloss color, it's got a lot of shimmer too it and it's a nice eye-catching pink color. It was practically screaming "pick me" from the shelf! I was instantly drawn to it!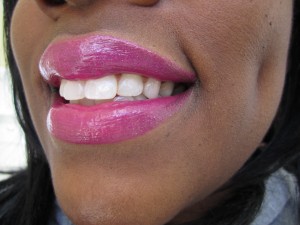 Finally the mad scientist in me had to put these two colors together! What a combo! This mix of the lipstick and gloss (pictured above) is beautiful, eye-catching, and glowing. I love it!
I got Revlon Colorburst Lipstick for $11 and Colorburst Lipgloss for $9 at my local drugstore. Prices may vary depending on where you live. They have a beautiful selection of colors. Check them out next time you're at the drugstore.
Rated: B+
Disclosure: I purchased these items myself!