Richly pigmented and incredibly long-lasting, I am so glad I gave one of Revlon's new Colorstay Quad's a try. I am an eyeshadow junkie but was on the fence about getting one of these. I knew it would work for me but the color options are a bit off to me. I only like two of the many quads available.
I picked up Precocious because for $5.99 this week on sale at CVS, how could I resist? I had a $5 off coupon also!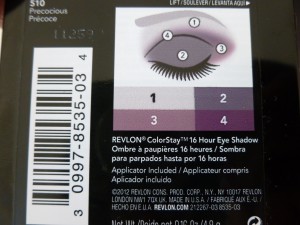 Notice how it says these eye colors last 16 hrs? I believe it. I got through 10+ hours no problem. These are worth looking into. Check out how beautifully they swatch WITHOUT primer! These are super pigmented y'all!
sunlight/regular light
I love this quad and think that they need to come out with more colors! I would load up for real. Check these out on your next visit to the drugstore.
Rated A