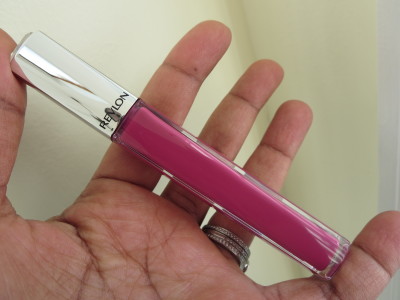 This product really surprised me! I really love it when that happens. I was expecting a nice gloss from Revlon and what I got was a lipstick in a tube like product. Now it does have a wonky applicator (boo hiss) with color that just won't quit (yay) so I was eager to see what would happen. Garnet is a beautiful pink and I must admit that I have worn this for a few days straight so I'm a little obsessed.
Now the formula. It's thick. Not like a lip gloss at all-must be why they are calling this a lip lacquer (duh I didn't catch on to that nearly fast enough) so its instantly opaque. I like that. This really reminds me of one of my favorite Estee Lauder Pure Color shades but at under $8 this is a steal!
Ahhh the wand. I'm not in love with it. Its my least favorite type of wand and makes me feel like I am painting a fence not my lips! I kind of hate it but after two dips and spreading the color out my lips look kinda fantastic.
See? It looks amazeballs! Now the formula as I said is thinker regular lip gloss. It lasts much longer though. Garnet has a kind of plastic scent when I open the tube but it goes away fast. There is no taste with the formula though. The scent actually reminds me of how the old Nars lip glosses used to smell. But again at $8 I'm still thrilled with this! I can get it it to last for most of the day also. Minor touch ups after a messy meal and I'm good.
Check these out at the drugstore. I am not a fan of the color selection for the most part but I will invest in another shade for sure because I'm kind of thrilled with the price and lasting powder and of course how great this looks once it's on!