Do you ever want to try something different? Just go out on a limb and try something that looks a little strange or space age but might just be fantastic? Well let me introduce you to Rimmel's Eyeful Eye Glisteners….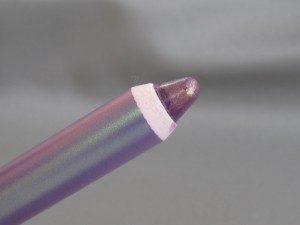 This product is hard to describe. It is a creamy sheer eye pencil. It can be used as a liner, or an all over eye color for your lids. I really enjoyed using it. They had five different shades at my local drugstore and of course I got the purple-ish one! This shade looks different depending on the light. It looks a little more gold in lots of light and then sort of more purple in low light situations. It's a beautiful finish no matter what light and it really brightens the eye area and makes for a different look that is really unique.
This was $7.29 at my local drugstore and I think these are at Ulta too. If you'd like to try something different put this on your experimental makeup list!
Rated B
Disclosure: I purchased this item myself!