I have a thing about blue…nail polish that is! I saw this color at my local drugstore and I haven't tried any Rimmel nail polish so I thought why not? Right on the front of the bottle it says "up to 10 days". I don't keep polish on my natural nails that long, but I was ready to try this baby out and see if this really was a long-lasting polish for $5.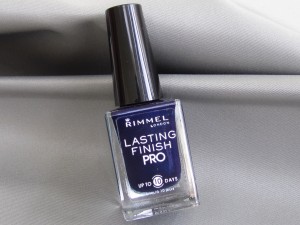 $4.99
This polish has a crazy brush! It's really strange. It's large and flat and it's kind of hard to work with. It reminds me of a paddle, it's kind of stiff. I got the hang of using it by the time I got around to doing the second coat. The brush covers a lot of area because it's so flat and wide. That is a plus. I just don't know if I'd look forward to buying more nail shades from Rimmel with this brush.
I do love the results though. A nice deep navy blue color. I did two coats of Midnight Blue with a top coat. As far as lasting for a while by day four it still looks beautiful but I did use a top coat. Very little chipping, just usual wear at the bottom of my nails near the nail tip. I like it! That brush is crazy though:)
Rated B-
Disclosure: I purchased this item myself!