Rimmel Moisture Renew Lipstick Back to Fuchsia, $5.99 at Ulta
I love a fuchsia lip. This newer shade from Rimmel is just that. I like the Moisture Renew line because the lipsticks are nice and moisturizing on the lips. Have you tried one yet? I love them. I showed you Violet Pop last year. That's another good one. But Back to Fuchsia had me worried because of the display.
I saw the displays everywhere and they said Fall Collection so I thought they were limited edition. But I've seen Back to Fuchsia and another shade I got in the regular aisle at Walmart and Walgreens so YAY! I'm so glad this color in particular is going to be around. Take your time if you love bright lipsticks but GET IT.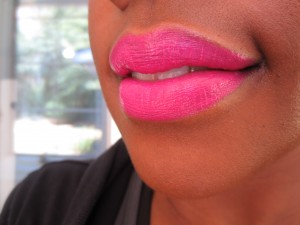 I can usually wear this shade for 4-5 hours before I need a touch up. It's super comfortable on the lips and the color is sexy and bright! The scent isn't great but its not something that sticks with you after you apply. There is no odd taste or anything just blinding color which is just what I like!
Have you seen the display above yet? You can click on the picture up there to make it bigger if you'd like to see the other shades available. I also have a VLOG video of the display if you'd like to look. I didn't open all the shades (that's gross) but you can see the display at the 1:45 minute mark in the video.