Rimmel Show Off Lip Lacquer Apocaliptic #303, $4.99 at Walgreens
Ok this is the last Show Off Lip Lacquer that I'm going to post about. I love these-Rimmel you've done good with these!
I saved the most shocking shade for last. Apocaliptic is a bright and beautiful shade that is fun to wear and well…really bold! This color glows. It's neon pink in a good way. Well if you are into neon that is!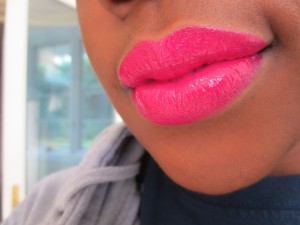 Apocaliptic is even more upkeep than Big Bang the red lip lacquer that I showed you the other day. If you are looking for something not as bright check out Galaxy or the very pretty wearable everyday shade that I carry in my purse Light Year. At $5 each it's not bad to get a few of these shades lined up in your stash.
I find that there is a lot of babysitting with Apocaliptic. It's so bright and even though I took the pictures in this post with just the lacquer on I've found that using a lip liner with this is a must. This color is drawn to my teeth. This shade travels everywhere. Especially on a day when your lips are dry (my poor lips are peeling a bit around the edges) this color shows every bit of any issue you may have. I think this shade unlike the other lip lacquers that I have is more prone to migrate into any lip lines you may have also. So beware this is one that should be pulled out and unleashed on the world when your lips are in good condition.
I touch up after meals and drinks when using all the shades that I got at Walgreens. They are moisturizing and look fantastic on (kind of like a lipstick) so I highly recommend trying them. There is no odd taste but kind of a plastic/metallic smell. Check these lippies out if you haven't already!