Do you neglect your hands and feet? I do and hopefully you are much better at maintenance than I am. I took advantage of a great sale at my CVS for some Sally Hansen products (buy one, get one 50% off) that I've needed for a while and with six $2 off coupons I decided to stock up!
Raise Some Brows ($8.79) is for my crazy brow hairs that I have trouble keeping in check. This is a nice control grip slant-tip tweezer that is made out of Japanese stainless steel. I've dropped my tweezers in water and laid them down in a wet spot so I wanted to get something that water won't mess up! The Now Brow ($9.99) is an arching kit. There is a little two-sided brush and comb as well as brow scissors. I love the scissors because they are slanted. Nice!
Ahead of the Curve ($4.99) is a nice two step sapphire nail file. I am the worst at filing my nails. I hope this helps me out with that! Clean Cut (3.99) is a nail clipper. My husband will be excited about this because I constantly borrow his fancy little man-set of nail tools in the leather case. Can you believe that? A LEATHER CASE how manly he is!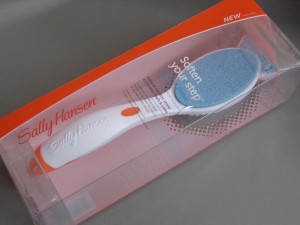 Soften Your Step ($5.99) is a nice ceramic stone and brush set for my poor feet. This will help me exfoliate my heals and the soles of my feet.
Fabulous Fingernails ($10.99) is a really cute manicure kit. There is a small metal nail file, small nail clippers, cuticle pusher, and 3-way buffer. All this in a handy little carrying case.
Hopefully all this Sally Hansen stuff will mean smooth hands and feet for Spring/Summer on this girl!