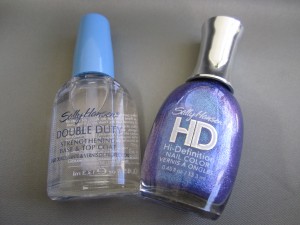 It's been a while since I have used Sally Hansen nail polish. But there was a great display featuring their Hi-Definition nail color at the drugstore this week. The colors are so beautiful and as a bonus you get a free bottle of Double Duty Strengthening Base & Top Coat. I am not familiar with the Double Duty formula being the die-hard Seche Vite user that I am but what a deal!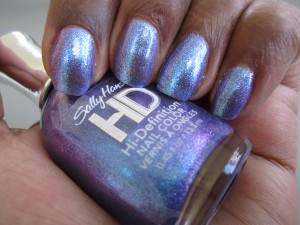 Sally Hansen DVD ($7.79 at CVS)
One of the colors I got is this beautiful shade called DVD. I love blue polish and this one impressed me because in low light it looks purple! Very neat. I did need three coats of this rather thin polish to make it opaque. I am so used to the thicker creme consistency polishes I have been using lately. But this went on quick and easy. I also used a top coat. Because the formula isn't as thick the drying time was just the same as two coats of a thicker formula so that's good. I love it!
Rated B-
Disclosure: I purchased this item myself!