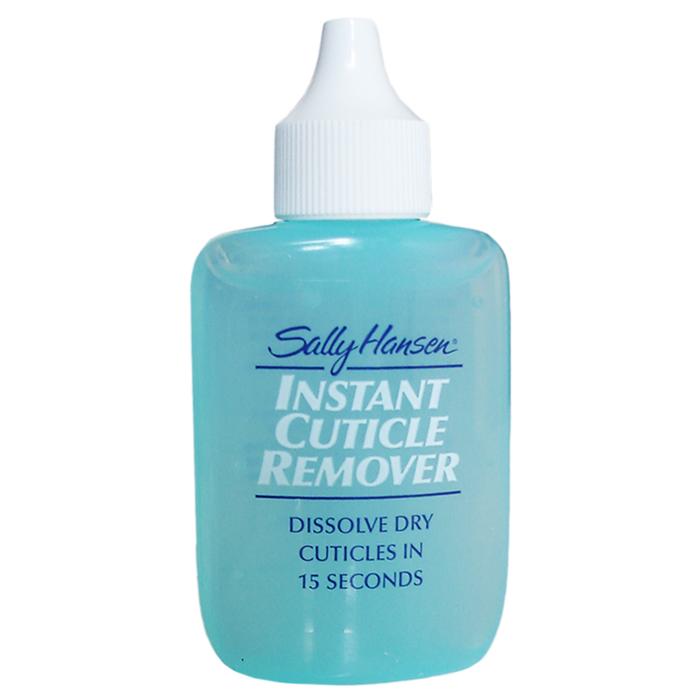 Sally Hansen Instant Cuticle Remover $5.99 at Ulta
I've been using this cuticle remover for a while. I love that it works quickly and I must say the 1 oz. bottle has lasted for a loooong time. I mean when it comes to nail products it has lasted longer than anything I've got besides some abandoned polishes in my stash.
I was looking for an easy to use (pain-free) cuticle remover a while ago. I used to go to the nail salon like it was my job. But about two years ago I decided to really take over doing my own manicures and saving the money that I used to spend on the right tools to do the job myself. I'm really glad that I made that investment. I got better and better at doing my own nails. I know them like the back of my hand now HA HA HA. But seriously with a few inexpensive tools you can make your manicures look professional and last longer. This is one of the products I swear by.
 For $6 you can get rid of those pesky dry cuticles. I dot and spread a little of this remover on each cuticle area and push things gently back with a q-tip. I don't leave the remover on for long. This doesn't take much time to work. It works really fast. I wash my hands really well after and get going with a base coat and my manicure officially starts.
I usually use Instant Cuticle Remover once every two weeks or so. I try not to overdo it. I also like to use it whenever I use a darker nail polish that stains my cuticle area badly. My recent nail of the day post Dotty Navy for example. After using blue nail polishes or dark green ones I notice serious discoloration all around my nail bed. Instant Cuticle Remover not only helps push back my cuticles but it also makes all that blue go away!
Check this out at your local Ulta or your favorite drugstore.
From the Ulta website:
Details- Cuts manicure time in half. Revolutionary gel formula melts away and breaks down excess cuticles. With regular use, helps prevent cuticle problems before they start. Tip: Instant Cuticle Remover can also be used on calluses. Salon Tested. Dermatologist Tested.
Special Ingredients: Aloe, Chamomile and Green Tea help soften hard-to-remove, stubborn cuticles.
How to Use- Squeeze a thin strip around cuticles and under nail tips. After 15 seconds gently push back cuticles with a cuticle pusher or manicure stick. Wash away excess immediately and thoroughly with warm soapy water. To remove calluses, apply to callus for 1 minute. Wash away excess immediately and thoroughly with warm soapy water. Do not leave on longer than 1 minute.
Ingredients- Water, Potassium Hydroxide, Butylene Glycol, Acrylates/C10-30 Alkyl Acrylate Crosspolymer, Aloe Barbadensis Leaf Juice, Chamomilla Recutita (Matricaria) Flower Extract, Camellia Sinensis Leaf Extract, Tetrasodium EDTA, Dipotassium Glycyrrhizate.