I couldn't wait to try this….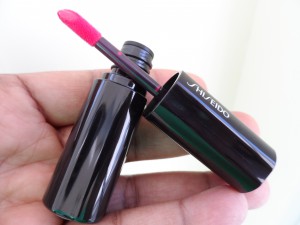 This color looked amazing to me when I saw the promotional information. Disco/RD404 is bright and beautiful. I picked it up at Nordstrom for $25. There are eight colors in all and this is going to be the one and only Lacquer Rouge Lipstick purchase for me but its a good one.
I really love it. The thing is I had such high hopes that I didn't realize that it might not be a low maintenance product. You need to mix it up in the tube each time you use it. Really mix it. It's also not a lipstick that you can put on without a mirror. Each time you wear it you have to work the doe foot applicator and even out the color.
That being said it feels great on the lips and lasts really well throughout the day. The formula has no smell or taste and I'm touching it up every 3-4 hours. Since its a bright color touching up/lip checks during the day is hard to avoid. The texture is thin which I like because Disco shines like patent leather but its not too thick. It feels really light on the lips.
If you love bright shades try this. I really like it!