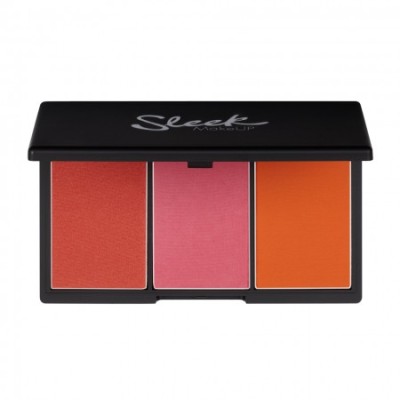 Sleek is one of my favorite inexpensive blush brands. I have a ton of their single blushes. At $7 each they are a fantastic deal. A while ago I showed you some Sleek Blush By 3 palettes that I love. When they came out with small blush palettes I was so excited. If you like to mix your blushes like I do things like this are a big deal. My newest Blush By 3 is called Pumpkin. It's a pretty set of three very pigmented blushes. For around $15 these blush palettes are one of the best deals in makeup. If you are a serious blush mixer like I am you need to get into these if you haven't already.
From the Sleek website:
The ultimate cheeky palette offering you three times the impact. Includes three complementary shades, each designed with its own distinctive finish, from rich shimmers to intense matte shades.
Available in six unique colour combinations designed to suit all skin tones 
Each shade can be used alone, or layered for a unique look
Each palette has a versatile selection of shades to take your makeup from day to night and keep it on trend from season to season
Set in a mirrored compact, ideal for touch-ups throughout the day
Weight
20g/ 0.68oz
Not tested on animals
Pumpkin has three shades you can use alone or layer. I prefer to layer and mix myself! On the far left you have a deep coral/red shade that has some shimmer to it. In the middle there is a bright pink. And on the end is my favorite. It's a matte orange blush that is sooo pigmented it makes my heart hurt. I love this shade. It's perfect for Spring. Orange and coral look great on my NC50 skin tone.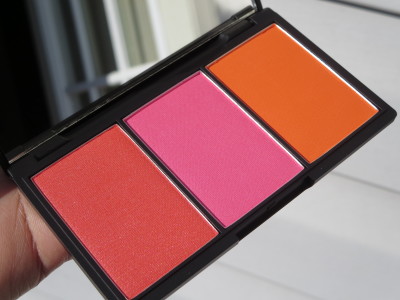 These Sleek shades are very pigmented. You don't need much at all to do the job. Here are some quick swatches!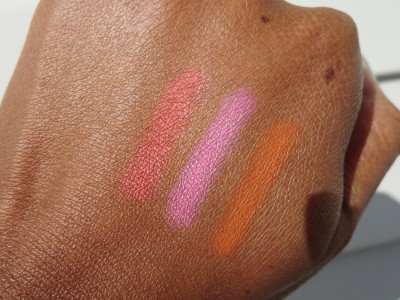 I always let you guys know when there is a Sleek sale (usually 20% off) by putting up a blog post. Next time consider getting this. The other Blush By 3 palettes that I have swatched are Flame and Pink Sprint. Sleek is an amazing brand. I am obsessed with their eye palettes and blushes. Next time they have a sale consider picking up both!