Here's another lipstick I've been wearing that I haven't shown you from Smashbox!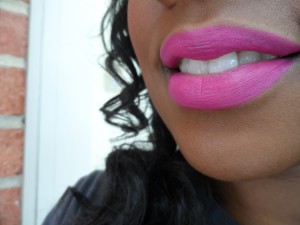 When the Be Legendary collection of lipsticks came out a while ago I really wanted to try one. I love new lipstick releases! On a trip months ago I picked up Fuchsia Flash inside of a Sephora store for $19. Here is some information from the Sephora website on the Be Legendary line:
What it is:
A luxurious lipstick in matte and cream shades.
What it does:
Legendary beauties are unforgettable for their daring, iconic style. Get famously bold lips that stand out from the crowd with this beautiful lip color packed with vitamins C and E. It's guaranteed to keep your lips feeling smooth and looking marvelous.
What else you need to know:
Cream shades contain shea butter and a unique moisture complex to provide instant and long-term moisture.
Size: 0.1 oz
I like Fuchsia Flash a lot. It's a comfortable matte to wear for extended periods of time which is hard to find. My lips crave moisture and if that's one of your issues you might want to put on a balm before wearing this. I find that using balm helps extend wear time by a few hours and makes this so much more comfortable to wear. It looks great after 5 hours easy provided I balm it up before application. Without balm my lips feel dry after about 4 hours. I need to touch up after meals and drinks but I love this matte.
Check out the 20 or so shades available at Sephora. There are cream and matte finish shades available and a wide enough range of colors to work for everyone!
Rated B+