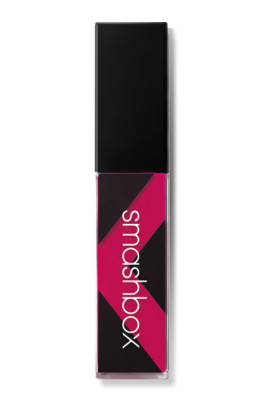 I love a beautiful bright lip gloss so I wanted to try the relatively new Be Legendary gloss from Smashbox. It was really hard picking a shade because there are so many pretty colors! In the end I decided I would be happy with Knockout a really pretty fuchsia pink like shade. The first time I put Knockout on I said OH YES to myself in the mirror. It's just that pretty!
This gloss is a little bit sticky but has a lot of pigment which I love. Because it's kinda sticky it does stay put which I like. I don't like touching up a lot during the day. That's just annoying. Since this is also a lip stain I can get a lot of time out of this. Once the glossy finish is gone you are left with color and this doesn't fade badly either which is nice. It faded evenly on my lips so I didn't need to even touch up unless I wanted the glossiness back. There also isn't any smell or taste to this lacquer either. And the way it looks…I really love that!
One coat and it's opaque. Very nice. This lacquer is pricy at $24 a tube but if you get a color you love and will use often I think you might be happy with this. Check it out at Sephora or Ulta or wherever you have access to Smashbox products and swatch the shades. There are twenty shades in all so there is a lot to choose from.
From the Smashbox website:
WHAT IT IS:
Say hello to the next-generation of lip color, BE LEGENDARY LONG WEAR LIP LACQUER—the new boundary-pushing formula that delivers maximum high-lacquered color with major comfort—all day long.
Goes on as a lacquer, then uniquely adjusts to a stain for 8 hours of long-lasting color.

WHY YOU'LL LOVE IT:
A proprietary triplex of 1) vibrant staining pigments, 2) glossy-finish pearls and 3) conditioning vitamin E. Our formula pushes saturated, long-wearing color to the limit by literally maxing out the amount of staining pigments we could blend in. (This way, hi-res photos pop with true color.) Then by mixing it with glossy-finish pearls and conditioning vitamin E, you get a velvety, lacquer-like finish that stays put without feeling tacky or drying.  HOW TO USE IT:
One smooth, comfortable coat will have your lips covered with color to the max, from A.M. to after-hours. No sad, patchy fading. No mid-day disappearing act. No annoying dry feeling.